When it comes to Airsoft I love tinkering with guns as much as I love being out on the field. Automatic electric guns, or AEG for short, are a pretty impressive mix of mechanical and electrical wonders. If you take the time to see how they come together, you'll find simple principles working in tandem to create a pretty effective skirmishing replica. This is especially true for the company Tokyo Marui who introduced AEGs to the community. Yet when I got my hands on a friend's H&K MP5k variant, we knew we wanted to get a little more out of it. And, by a little, I meant the total opposite!
First and foremost we had to rewire the gun to accept an AEG mosfet. Mosfets improve the power flow throughout the electrical system and reduce wear on the electrical trigger contacts. For this I chose silver plated 16 AWG stranded copper wire. The ones I could source where blue polytetrafluoroethylene or PTFE insulated wires. They were quite durable and easy to route through the body. I only had blue for both positive and negative leads, but thankfully I had a set of red and black heat shrink to help differentiate between the terminations.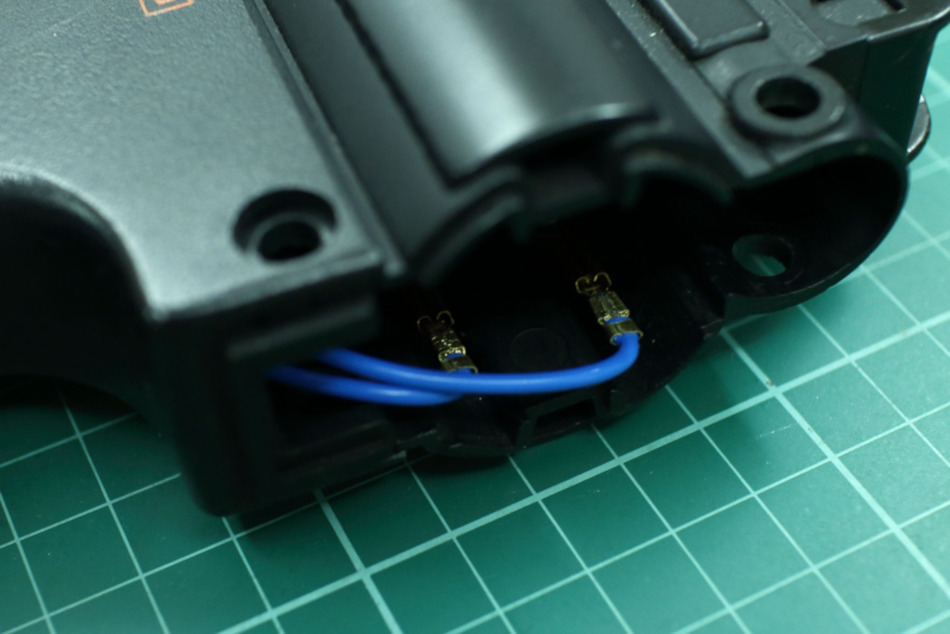 For the mosfet, I looked at a number of solutions and settled on GATE Mosfets' PicoAAB, their smallest, 3rd generation mosfet with active brake. I didn't have time to make my own and I specifically wanted the mosfet to sit where the old fuse was located inside the MP5K's front vertical grip hand guard; and the PicoAAB fit the bill. Apart from having a robust and feature rich selection of AEG mosfets, GATE has commendable support in case you need to contact them. You can check their website here.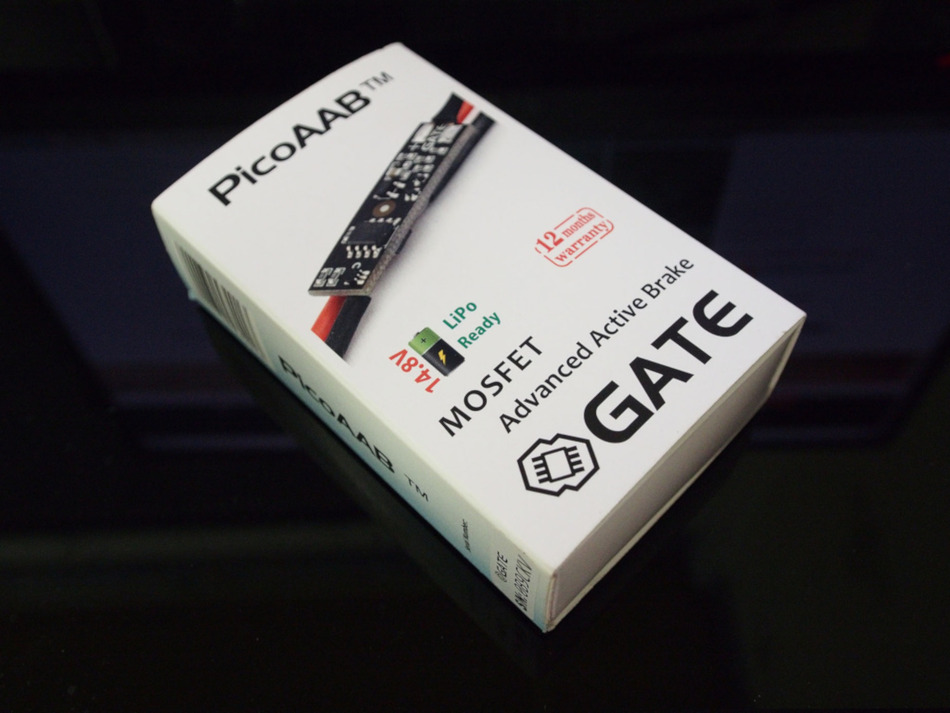 Here's a look at the actual kit prepping for installation on the circuit.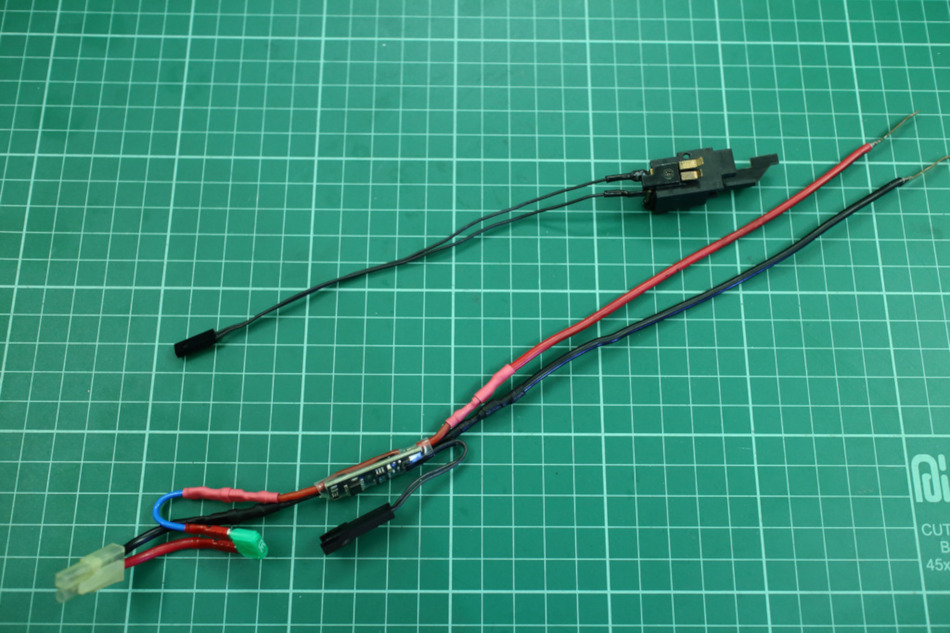 We had a spent Systema Magnum motor lying around. Not as strong as if it were brand spank'n new, but way stronger than the TM EG700 that was in here prior. It was important that we shimmed the bell housing and contact plates with non-conductive material to protect the mosfet from surge in accordance to Terry Fritz's (Gandalf) discovery in 2008, which can be found on the AirsoftMechanics forums. I actually went through a couple of AEG mosfets in the past due to this issue.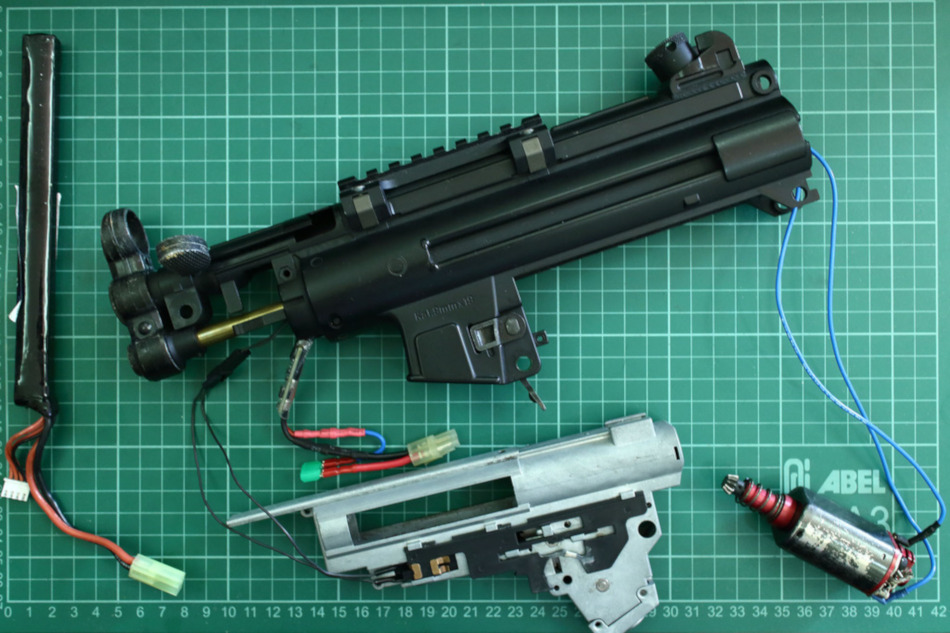 We were unsure of what brand gear set was inside, but they were 16 to 1 in ratio, and needed polishing. A new set of tungsten bushings were also purchased and fitted. A shim job was done with a pack of G&P shims.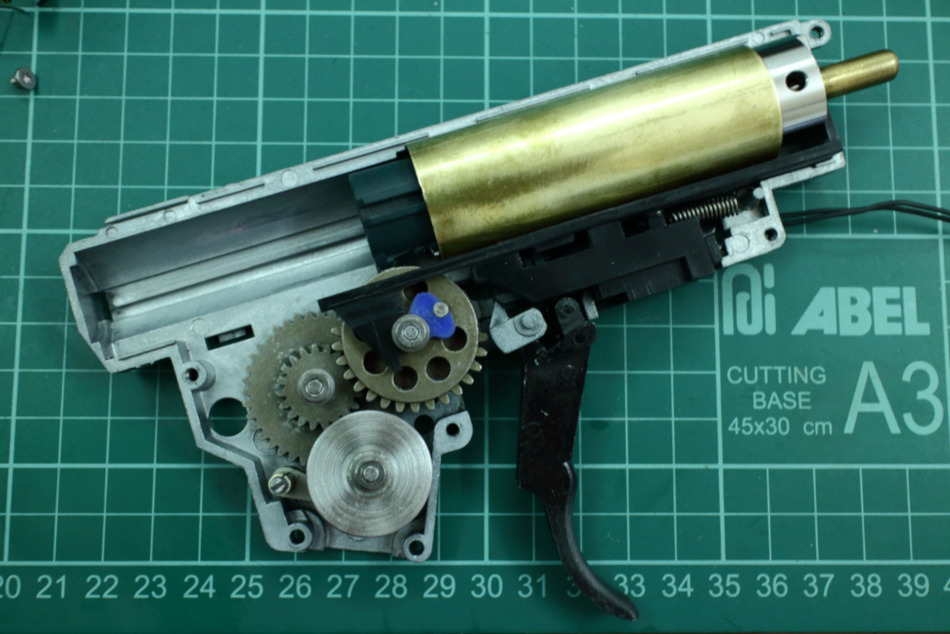 I kept the 110mm barrel length, did the cylinder to barrel ratio calculations, corrected angle of engagement, and slapped everything together. It all ran good, trigger response and rate of fire was good, but one thing was off. The BB velocity measured in feet per second was a tad low!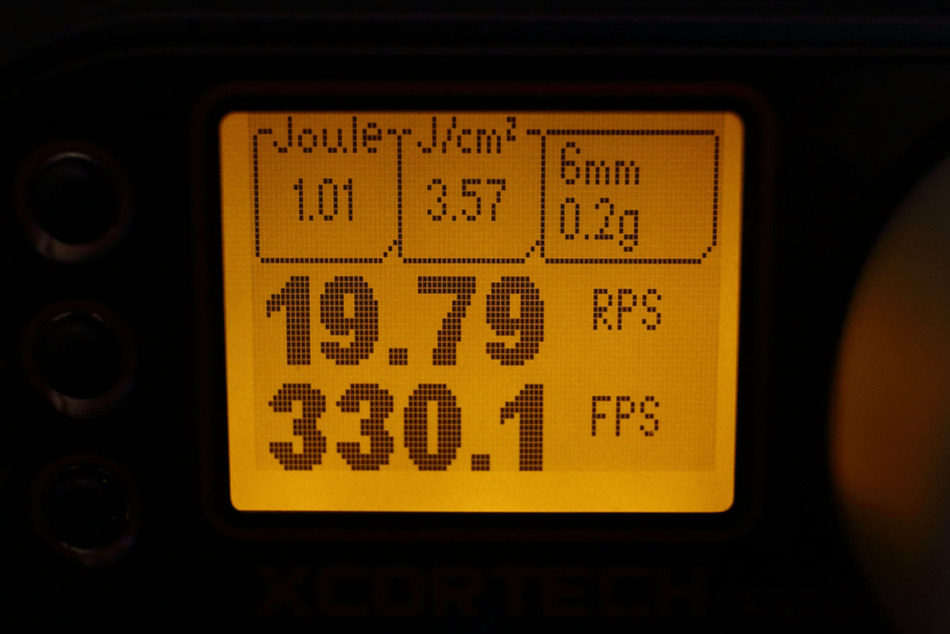 We had stuck a Guarder SP120 as our spring of choice and were expecting somewhere in the neighborhood of 400-410 fps, but here we were getting 325-330. I checked for compression leaks in the cylinder assembly and hop-up chamber and came up empty handed. There was only one thing left to check and that was the barrel.
The 110mm barrel is stock with a 6.08mm inner diameter. I swapped it out for a longer, m4 length inner barrel with a 6.08 ID, matched the cylinder and proceeded with measuring the muzzle velocity readings.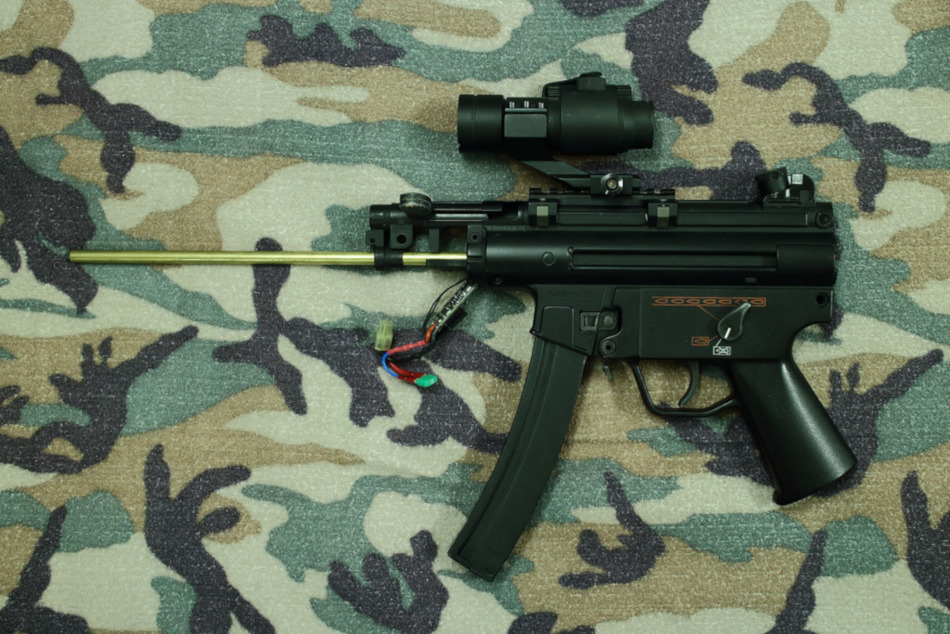 Lo and behold, we were getting constant 405+ fps on the chrono which meant the SP120 spring was doing its job. However using a longer inner barrel was out of the question and, in my opinion, distasteful considering the whole point of the MP5K was its compact nature.
In light of this, I experimented with different cylinder configurations for the stock 110mm barrel, but was still maxing out at 330 fps. It seems that at 110mm there isn't enough bb travel in the barrel to really maximize the spring's potential. The only solution to our low fps problem would then be to rack up the spring's power rating.
A stronger spring would necessitate a new gear set as the one we currently have is in no condition to sustain the added stress. Given that the power source is a 11.1v 25c Li-Po with only 1300 mAh of juice, I chose not to stress the system any further. However, if need be, a new set of gears and stronger motor could help ease up stress on a beefier spring upgrade. Add in a tight bore barrel and I think 400fps can be done with 110mm of travel, but funds are thin, so that's for another time.
As for the circuit's performance, I have to do more tests, but I'd say that GATE's PicoAAB mosfet has done it's job. Apart from sourcing a small, quality mosfet that would fit in front of an MP5k AEG's front foregrip, I placed the mosfet in there more for clean power delivery and less wear on the contacts. The trigger seems quick enough for me and the experience of the dis-assembly process of this replica has been considerably improved.
It didn't turn out to be the monster I was hoping it would be, but this project proved to be valuable experience for me in furthering my insight into the inner workings of the AEG. As it is right now, most of the work is complete.
We didn't really discuss rate of fire as bb velocity goals were much more of a priority. However, we see we're getting 19.79 bbs per second here. Not bad really if we take into account that the motor could be better and the battery is quite small and of average quality. 330fps @ 19.79 rps may seem pretty low, but you have to remember that on an m4 length 6.08mm ID barrel it's 408fps @ 19.79 rps.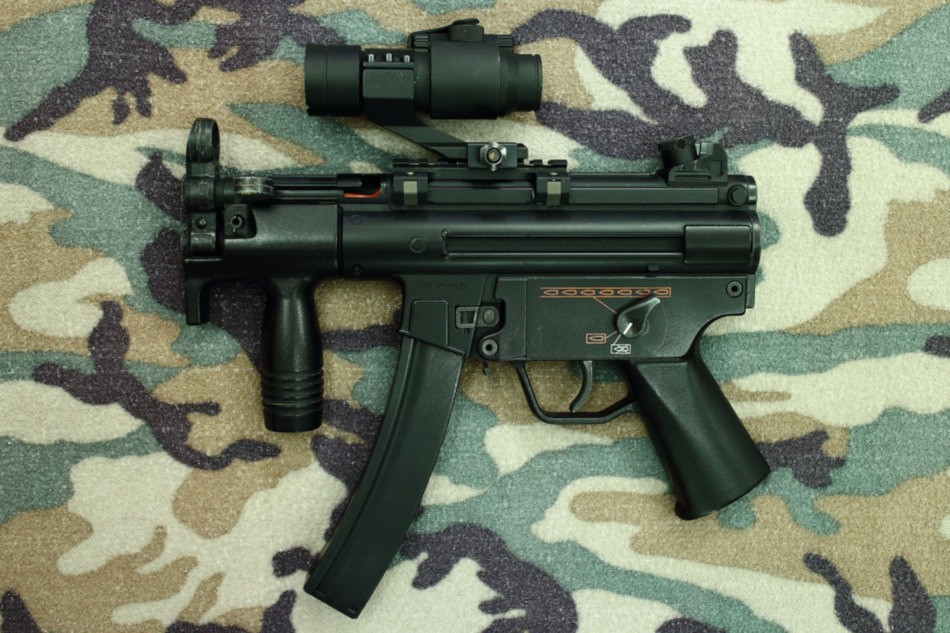 Getting key things right the first time around and laying down a strong foundation is how a warrior should work, and in this case will make future upgrades on this MP5K relatively simple and painless should the owner choose to dump more cash on this project. For now we'll run it hard and enjoy it as it is.
– J4