One airsoft-tech buzz phrase you will often hear is AOE. Specifically correcting for AOE. AOE refers to angle of engagement, or how well the the pick-up teeth between the sector gear and piston mesh. In high stress set-ups poor AOE can result in broken piston or gear teeth. Enter Lee's Precision AOE Piston Head that aims to make this adjustment easy.
I am currently working on a friend's G&G GS550 with the goal of turning it into an airsoft version of a long range dedicated marksman's rifle. To achieve long range stability we are putting a heavy mainspring into it. This will give more energy to put into running heavier BBs at a higher velocity.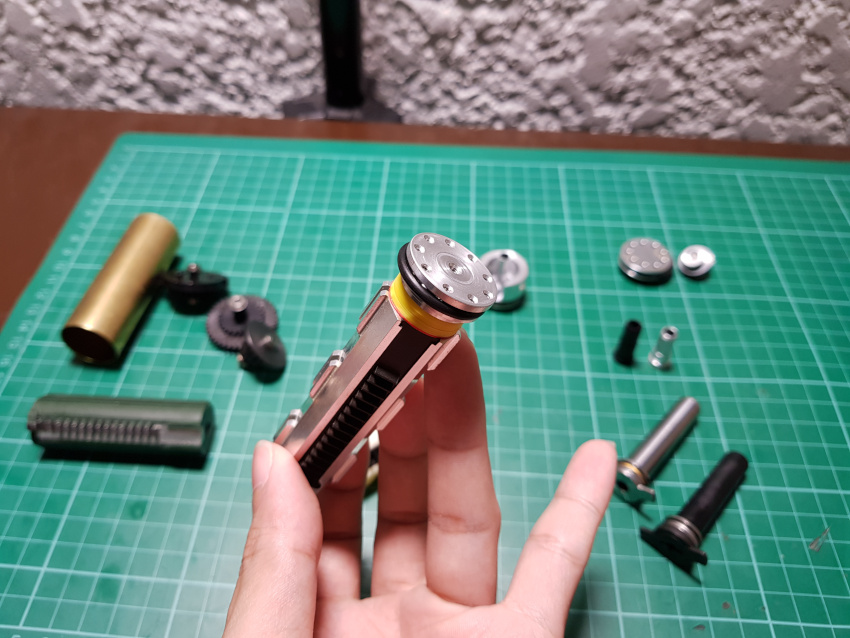 This kind of upgrade puts increased strain onto the pick up teeth of the piston and gears. I needed to correct the AOE for this and decided it was a good time to see how well Lee's adjustable piston head works.
Physical Features
For this build I went with the aluminum variant that had interchangeable cores. It comes with one flat faced core, and multiple air brake cores in a variety of lengths. The air brake cores also taper at the end and may not fit all cylinder head spouts. You will have to choose one that fits with enough gap to clear while still retaining the air brake function. I chose the flat faced core to minimize the muzzle energy loss and preserve the integrity of the full automatic fire mode.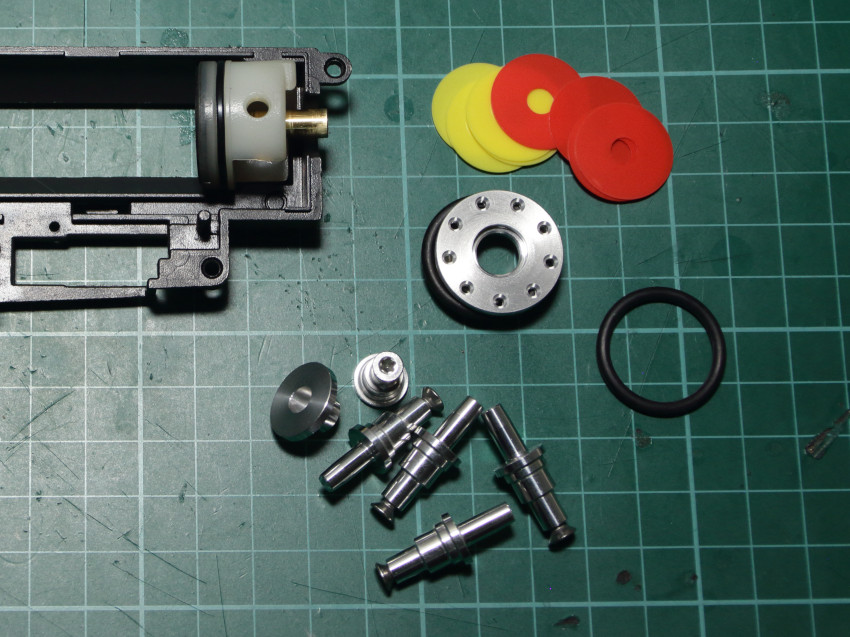 The cores have an elongated shaft where the included plastic shims stack on to adjust the length of the piston assembly. The shims come in certain increments. A spacer and screw secures the other end to the piston body once the desired adjustment has been achieved.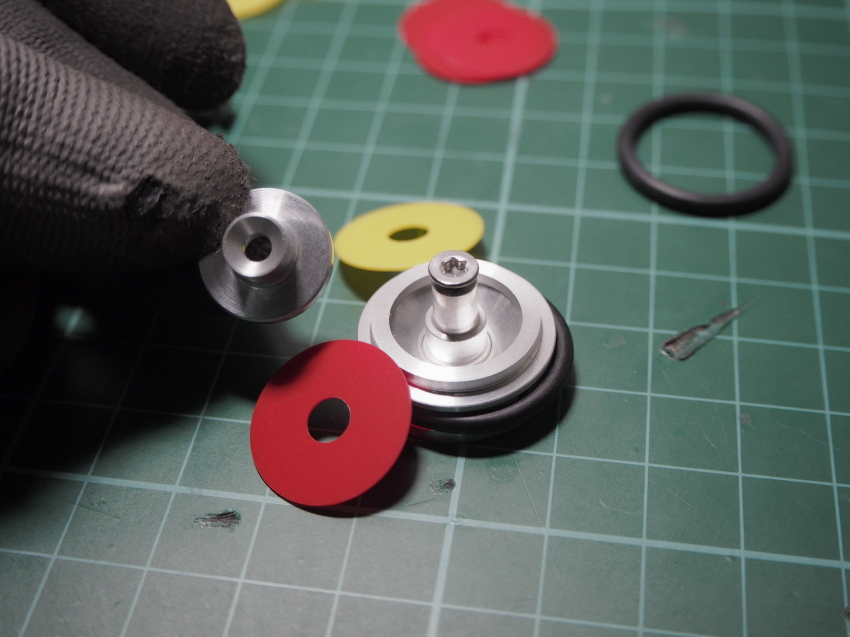 Installation of a thrust bearing is still possible behind the spacer.
Findings
Lee's Aluminum Precision Adjustable AOE Piston Head made it easy to dial in a suitable AOE correction. However, I am not sure how much pressure the plastic shims will be able to handle, and for how long. When they are not installed correctly, I do know that it is possible to break them.
The two piece design can be problematic and susceptible to air leaks. It took me some time to track it down to the gaps between the core and face of the piston head. Even though that was the case, applying some gasket maker fixed this immediately. I did have a one piece Lee's Air Brake AOE piston head, that did not exhibit this problem.
One other problem I encountered was the fitment of the core's shaft on the piston I was using. It was too wide which I fixed with a lathe.
I think Lee's Adjustable AOE Piston Head works as advertised. Like most airsoft parts, it could need a little work to work with the rest of the AEG. However, the quality is there and the price is reasonable.
For most standard builds I am confident it will do the job. Only time will tell if that is true for the extreme builds as well. Don't forget to check out Lees Precision Engineering for more info.
If you like this post and found it helpful, please drop by our YouTube and social channels to say hello! Unfortunately many find airsoft a sensitive topic and are making it increasingly difficult to enjoy and discuss our hobby in more mainstream internet channels. I am going to need your help to grow our community and share the positive aspects of our hobby / sport.
You can help by telling your airsoft buddies about htwarrior.com and sharing blog entries like the one you just read. For those who want to show their support directly, you may consider donating any amount in the PayPal link below to pay for my coffee. Much appreciated!

Thank you for taking the time to read another Hobby & Tech Warrior post!
– J4